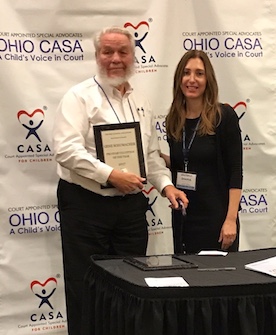 2017 Awards Ceremony Closes Conference
The 23rd Annual Celebrate Kids! Conference came to a close Friday, ending with an emotional tribute to Ohio CASA's annual award winners.
The 2017 honorees are:
Ann Baronas, Sylvania, Attorney Advocate of the Year
Michelle Frohne, Port Clinton, Mary Ellen Wilson Social Worker of the Year
Doug Page, Troy, Rising Star Volunteer of the Year
Gene Schumacher, Fremont, Pro Star Volunteer of the Year
Senator Peggy Lehner, 6th District, Child Advocate of the Year
Senator Lehner paid high tribute to CASA volunteers, saying, "You're honoring me but, frankly, you are my heroes."
"I'm in my second term and I can't wait until it's over, because I want because I want to be a CASA worker myself," she said.
The senator spoke about the challenges facing Ohio, including the opioid epidemic and the effects of poverty on the educational performance of children. She will soon introduce legislation requiring school districts to provide training to instructors on trauma-informed education and cultural competence, Senator Lehner said.
PICTURED ABOVE: Gene Schumacher and Ohio CASA Board of Directors President Diana Turoff.