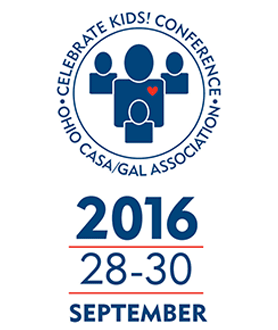 22nd Annual Celebrate Kids! Conference Great Success
CASA volunteers and staff from 42 counties assembled in Columbus September 28 to 30 for the 2016 Celebrate Kids! Conference. The 3-day event at the DoubleTree by Hilton Columbus-Worthington welcomed more than 550 volunteers, program staff, lawyers, social services professionals, judges, magistrates, exhibitors and speakers.
Speakers from across the state engaged participants in dynamic presentations, with most of the 41 available workshops at capacity. An interactive workshop conducted by the Ohio Association of Foodbanks exposed learners to living in poverty, including stumbling blocks related to housing, banking, transportation, schooling and child care. Three engaging keynote speakers added to the experience. Wednesday evening, Lauren Leeman, state coordinator of Colorado CASA and former foster child in Ohio, shared her experience. At lunch Thursday, Kay Frances, Wilmington, Ohio, had everyone laughing with her hilarious retellings of life stories. Friday, Amy O'Grady from the Attorney General's Office provided updates on several key initiatives.
O'Grady also accepted the 2016 Child Advocate of the Year Award on behalf of Attorney General Mike DeWine, who was unable to attend the awards luncheon. Other award winners include:
Howard Whitcomb, Ottawa County, Attorney Advocate of the Year
Dennis Blank, Clark County, Rising Star Volunteer of the Year
Kristen LePrevost, Lorain County, Pro Star Volunteer of the Year
Jennifer Justice, Mary Ellen Wilson Social Worker of the Year, for the work she did at the Ohio Department of Job & Family Services.
The 23rd Annual Celebrate Kids! Conference will be September 20-22, 2017, at the same location. The call for presentations is open until March 31.