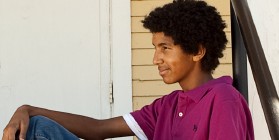 5 Things to Know About Foster Care
According to mass media, foster care usually looks like a small child living in the mansion of a very rich family and – oh wait, that's the movie Annie which foster care is actually nothing like! In fact, we don't even use the word "orphan" or have orphanages in the United States anymore. Want to know more about foster care and the children impacted by it? Keep reading.
Children enter foster care through no fault of their own.
According to this study by the Dave Thomas Foundation for Adoption, 46% of people surveyed believe that children are in foster care because they are juvenile delinquents. The fact is, 100% of children are in foster care because of abuse or neglect from their caregivers.
The loss a child experiences entering foster care is traumatic, let alone additional trauma they might have experienced prior to entering care. Oftentimes, youth exhibit behaviors as a symptom of their experiences and require therapeutic support to overcome PTSD and other things they may be experiencing.
It takes accountability, and a village.
All families need support, and there is definitely strength in numbers when it comes to advocating for youth in foster care and ensuring they are safe. Without those in charge taking ownership, being change makers, and refusing to settle for "how it's always been done," our children will continue to spend more time in foster care than necessary.
Thanks to leaders like Ohio Governor Mike DeWine for sparking change and recommending a $74 annual budget increase to better support children and families, Ohio is definitely making strides in keeping ourselves accountable.
You don't have to be a foster parent to help kids in foster care.
Becoming a foster parent is a meaningful commitment. If you aren't sure if fostering is for you, aren't ready to begin the process, or are interested in supporting youth in care in other ways, there are plenty of options:
Speak up – Follow us and other children's organizations on social media and share the content you like to help raise awareness! We also recommend National CASA, the Dave Thomas Foundation for Adoption, Children's Defense Fund Ohio, and PCSAO.
Donate – Every little bit helps. All nonprofits depend on individual donations to support the work they do every day. Even if only give $15 once a year, know that it is appreciated and that you are making a difference.
Become a CASA volunteer – Last year, CASAs volunteered an average of 6.25 hours a month. CASA volunteers are appointed by the court and they visit the child(ren) on their caseload once a month while getting to know more about their life. They advocate for the child's best interest by providing a report to the judge, and they are often the one consistent person in that child's life while they go through the court process. Learn more here
There are more than 400,000 children in foster care in the United States, and more than 16,000 in Ohio. 1,000 of those children age out of foster care every year in Ohio without a place to call home.
Children in care just want things to be normal.
We at Ohio CASA are honored to be invited to quarterly meetings of the OHIO YAB (Overcoming Hurdles in Ohio Youth Advisory Board) made up of remarkable youth who have experienced foster care. A resounding theme in their conversations are that they just want things to be "normal." Normalcy rules in foster care can prevent youth from attending sleepovers, seeing their siblings, and getting their driver's license. We encourage you to follow along with the amazing work the OHIO YAB is doing and amplify youth voices whenever possible.