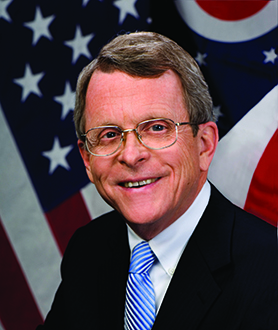 Attorney General Mike DeWine Awarded Child Advocate for 2016
Attorney General Mike DeWine has been named the 2016 Child Advocate of the Year by Ohio CASA. Child Advocate is one of five annual awards Ohio CASA distributes at its annual Celebrate Kids! Conference.
The reason for Attorney General DeWine's selection is clear: He has been a longtime advocate for Ohio children throughout his decades-long career in public service. One notable undertaking is the CASA expansion project that began in 2013.
Shortly after he took office in 2011, Ohio was rocked by the deaths of three children in foster care. In response, Attorney General DeWine embarked on a comprehensive reform of Ohio's foster care system.
That undertaking ultimately resulted in a $2 million grant in 2013 from the attorney general to the Ohio CASA/GAL Association to support the expansion of services across the state.
Since that time, CASA programs have been established in 10 additional Ohio counties, a 30 percent increase. Furthermore, 11 counties have expanded previously established programs. There are now 40 programs in 47 counties, translating to volunteer advocates for more than 8,000 Ohio children. The expansion project is on pace to reach its goals before concluding in June 2017: 3,000 volunteers serving 10,000 children with programs in 50 counties.
The project has its roots in a series of eight regional Child Safety Summits convened by Attorney General DeWine to address issues plaguing the child welfare system. The summits led to the establishment of the attorney general's Foster Care Advisory Group, which recommended, in part, that CASA programs be strengthened and expanded.
Attorney General DeWine's efforts to protect children extend beyond improvements to the foster care system. He also has increased training for law enforcement and educators on human trafficking, missing children, child abuse, bullying and school safety.
In 2011, Attorney General DeWine reconvened a Human Trafficking Commission to identify ways to help victims, and investigate and prosecute traffickers, and he launched the Crimes Against Children Initiative, a comprehensive plan to identify, arrest and convict child predators.
Before his 2010 election as attorney general, Mike DeWine served as prosecuting attorney for Greene County, in the state Senate, as Ohio lieutenant governor, and in the U.S. House of Representatives. As a U.S. Senator, he wrote language included in the 1997 Adoption & Safe Families Act that ensures that the safety of the children is the foremost consideration in deciding if neglected and abused children are reunified with biological parents.