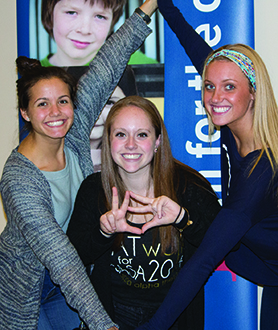 Kappa Alpha Theta Foundation Commits $1 Million for NCASAA Evidence-Based Practice Initiative
The CASA/GAL network sits on the precipice of becoming an evidence-based program; one that can prove measureable outcomes for the children our advocates serve.
For years, the need for evidence-based practices has grown across the CASA/GAL network. Concurrently, local, state and national funders have begun to require that programs receiving support to be evidence-based. The time is now to further standardize training curriculum for volunteers, operational parameters for programs and staff, and to create a performance measurement system.
In recognition of this critical need, Kappa Alpha Theta Foundation – National CASA's partner since 1989 – recently announced a three-year, $1 million commitment to NCASAA to execute a performance measurement initiative. This momentous effort will help propel the CASA/GAL network to the forefront of child welfare advocacy and help make it one of the most influential and effective child welfare leaders in America. This also marks a significant step forward in our partnership with Theta, which spans more than 26 years. This initiative brings the combined strength of two very committed networks to enhance our advocacy on behalf of America's most vulnerable children, and ultimately, to create better outcomes for these children.
Kappa Alpha Theta has been one of the strongest supporters of our network for more than two decades, and this new commitment from Theta Foundation to National CASA moves our collaboration forward. Theta Foundation is a separate entity from Kappa Alpha Theta Fraternity, which manages more than 350 college and alumnae chapters nationwide. In addition to our relationship with the Foundation on the national level, there is a local component to our partnership. One reason our partnership with Theta is so unique and meaningful is that their chapters and members are located in many of the same cities and towns as our programs. In many areas of the country, this means that Thetas serve as board members, staff members, volunteers and donors. They recruit volunteers and contact their elected officials to encourage them to support CASA's federal and state funding. They will be critical to achieving our goal of serving every abused or neglected child.
To read more, click here.