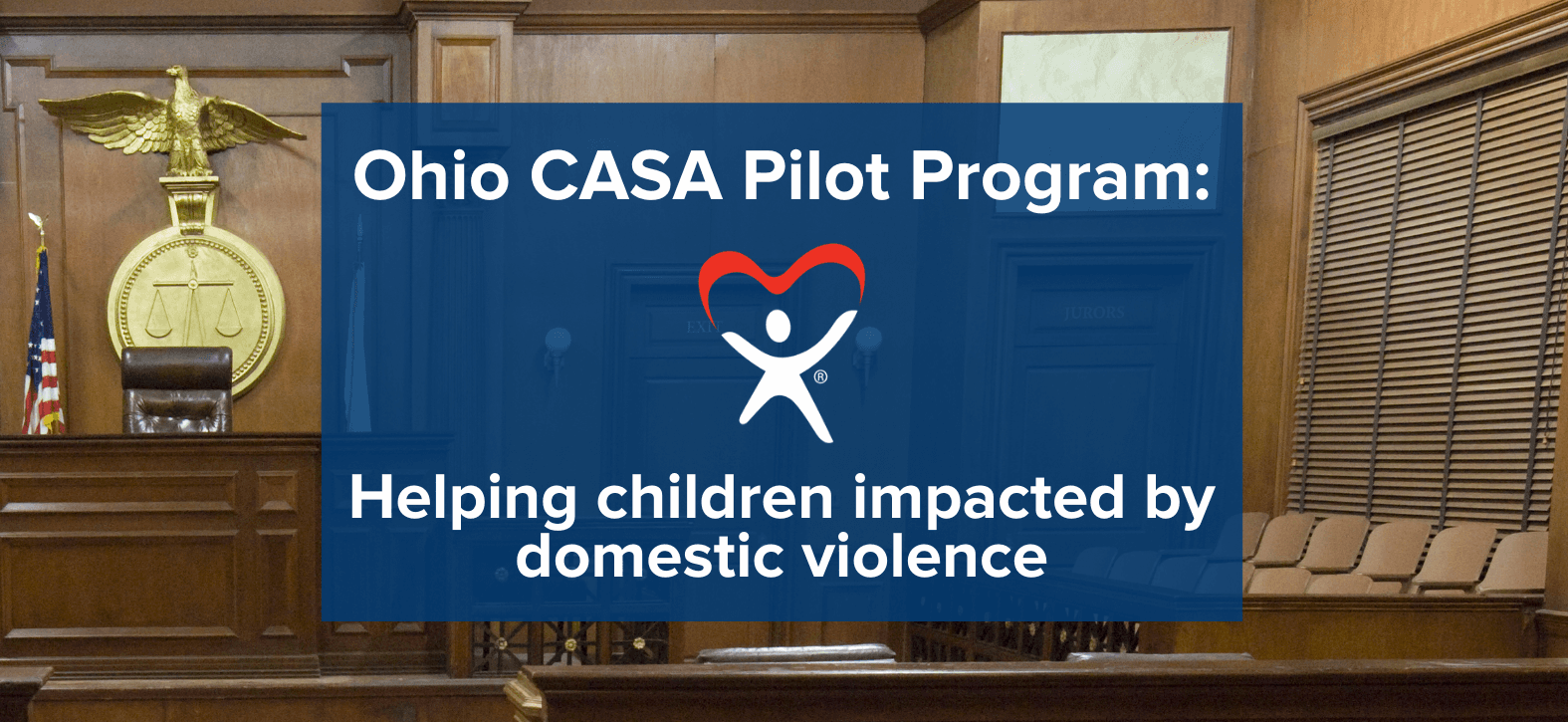 Ohio CASA operating pilot program for children impacted by domestic violence, provides special training for attorney GALs
During Domestic Violence Awareness month, we are highlighting this effort with nearly 200 children served across Ohio
The Ohio Court Appointed Special Advocates (CASA) staff has been operating a program designed to help children impacted by domestic violence, by providing attorney GALs with specialized training in this field.
During Domestic Violence Awareness Month in October, the Ohio CASA/GAL Association is highlighting this effort, which has provided dozens of attorney guardian ad litems (GALs) with additional and continuing training. These professionals have served 191 children in 125 cases to date.
This program, the "Advanced GAL: Excellence in Child Custody Program," has been made possible through a three-year grant from the Office of Violence Against Women, Justice for Families program.
"Work like this is key to our overarching mission," said Megan Heydlauff, Esq., Director of Attorney Services for Ohio CASA, who leads the program. "We want to ensure a child's best interests are heard in court, regardless of economic status. This cannot be done without important partnerships, like working with attorney GALs, judges and other child welfare advocates."
Domestic violence victimization can often lead to abuse/neglect cases that CASA volunteers deal with in the court system.
The program provides participating attorney GALs with 24 hours of advanced training and funds their work on specific cases in program pilot courts.
Eligible cases include contested custody cases involving low-income families, where there is identified or suspected domestic violence, stalking, child sexual abuse, and/or other complex matters related to the safety and wellbeing of children who would otherwise be unable to afford a GAL.
"The program has definitely addressed an area of need as it relates to domestic violence victims. Often times, victims are left in a financially difficult situation when attempting to leave their abusers and cannot afford the services of a GAL, which can be very vital to ensure that the children's needs in the situation are addressed and the children are protected," said a participating attorney GAL.
This launched as a pilot program in the Hocking County Common Pleas, General and Juvenile Division and Allen County Common Pleas Domestic Relations division.
"Having the ability to appoint a well-trained, fully funded GAL to indigent individuals in high-conflict cases, where there are concerns of domestic violence, substance abuse, or parental mental health issues, ensures that these families don't fall through the cracks in the justice system.  Without this funding, these litigants are usually left with self-representation, with little or no ability to have a full investigation into their concerns, leaving them with trying to navigate a complicated system with many barriers, leading to worse outcomes, more conflict, and more filings in the future," said the staff at the Hocking County Common Pleas and Juvenile Courts.
In 2022, Athens County Juvenile Court joined the program. In 2023, the program welcomed Marion County Family Court, Meigs County Juvenile Court, Meigs County Common Pleas Court, Gallia County Common Pleas Court Domestic Relations Division, and Gallia County Juvenile Court.
Training doesn't stop with the initial 24 hours of content. GALs receive coaching and are also required to complete 12 hours of continuing education each year to remain part of the program.
"Through the Advanced GAL program, I have been able to help link families with a multitude of assistance including, but not limited to: Batterer's intervention counseling for perpetrators of violence, individual counseling for victims of violence, Civil Protection Order forms to establish protection orders against abusers, and Court Orders for the protection of children involved in families affected by domestic violence," said another participating attorney GAL.
The Ohio Domestic Violence Network, the Supreme Court of Ohio, and the Ohio Poverty Law Center all partner on this program.
The Ohio CASA staff hopes to continue this program beyond the initial grant cycle.
For more information about this program or if you would like to become involved, contact Ohio CASA's Megan Heydlauff at mheydlauff@ohiocasa.org.