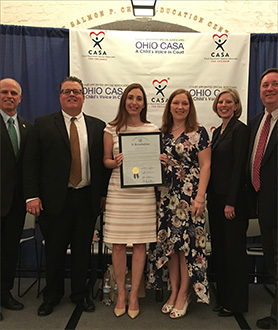 OPIOID CRISIS INCREASES NEED FOR VOLUNTEER CHILD ADVOCATES
The message last week at the Statehouse was loud and clear: Children in every Ohio county need CASA volunteers.
CASA volunteers are specially trained to advocate in court for the best interest of children who are abused and neglected. Their work was praised repeatedly at the April 25 CASA Day in Ohio Kickoff Celebration by judicial, legislative and executive branch leaders, including:
Judge Chad L. Carey of the Clinton County Juvenile Court
Representative Jeffery S. Rezabek (District 43, Preble and Montgomery Counties)
Representative J. Kyle Koehler (District 79, Clark County)
Carla Carpenter of Ohio Department of Job & Family Services.
Kristen LePrevost, a volunteer with Voices for Children in Lorain County, spoke about the rewards that come with being a CASA volunteer. Le Prevost was the winner of the Ohio CASA Pro Star Volunteer of the Year award in 2016.
Reps. Rezabek and Koehler presented a House resolution recognizing CASA Day in Ohio and the value of the CASA movement and volunteers.
GROWING NEED
Once a county assumes custody of a maltreated child, the case can last several years with the child changing foster homes multiple times. CASA volunteers are assigned by judges to a child or sibling group and stay with those children through each phase, frequently becoming the only stable adult presence in their lives.
Working with case workers and attorneys, CASA volunteers provide judges with the information and insight to ensure the medical, therapeutic and educational needs of the children are met. CASA volunteers continue to monitor children after a case concludes to help keep the court-approved case plan on track
Currently there are 40 CASA programs serving 47 of Ohio counties.
Judge Carey, who established a CASA program in Clinton County last year, pointed to the increase in overdoses from opioids and the concurrent increase in children taken into care as driving the need for additional programs.
"These children are invisible. CASA gives them the voice they need," Judge Carey said. "We need CASA [volunteers] in every county," he said.
Judge Carey noted an unfortunate milestone that Clinton County passed in 2010. For the first time, he said, the county recorded more deaths from overdoses than from automobile accidents. Further evidence of the growing problem: the county filed a record 113 new child welfare cases in 2016, while the first four months of 2017 have seen 42 such cases.
"We did not hit 42 until June 10 last year," he said.
The problem is escalating in Clark County as well. Rep. Koehler said sheriff's deputies administer the opioid antidote Narcan 11 times more frequently than they use handcuffs.
Rep. Rezabek recalled a case early in his career involving parental drug use. Working with volunteers can show children a new way of life, he said.
"We have to get CASA [volunteers] involved. That is the way we are going to create generational change for these families, he said.
SHAPING OHIO COMMUNITIES
Ms. Carpenter commended the volunteers and program staff in the audience. "You help remind us today that behind every case plan, every measurement, every court motion and judicial order, there is a child," she said.
Beyond their work on behalf of children, Ms. Carpenter said, CASA volunteers enrich the local communities they serve.
"Through you work as a CASA [volunteer], you demonstrate to your government leaders, your friends and family, and the children you stand for, that you want a community that cares for its children, values its families, and believes that each of us as individuals has a responsibility to help and support those who are the most vulnerable," she said.
Rep. Koehler commented similarly, "You are educating us and telling us what the need is."
STATE ASSOCIATION LEADING PROGRAM EXPANSION
The Ohio CASA/GAL Association is a membership-driven organization that provides local programs and their volunteers with training, funding, leadership, quality assurance and management assistance. Ohio CASA aims to provide a trained volunteer advocate for every child in the state who needs one.
Ohio CASA embarked on an expansion project after receiving a $2 million grant from Attorney General Mike DeWine in 2013. The project is on pace to reach its goal of providing access to CASA volunteers in 50 counties by July 31.
PICTURED (left to right): Representative J. Kyle Koehler, Judge Chad L. Carey, Ohio CASA Board of Directors President Diana Turoff, Kristen LePrevost, Carla Carpenter, and Representative Jeffery S. Rezabek.